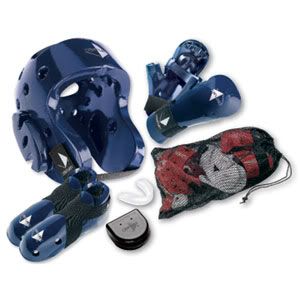 My gear bag weighs about 15 lbs. My training partners call it the McGyver Bag - because it's got so much seemingly obscure/useless stuff. But you know what? When they need a band-aid, nail clipper, hair tie or Tiger Balm, guess who they ask?
Here's what's in mine:
gi & obi
sparring helmet, gloves & kicks
cloth shin guards
2 mouth guards
extra sports tank and bike shorts (what I wear under my gi)
my white belt :-)
a ziplock bag of hair ties, scrunchies and barettes
a tiny first-aid kit (mostly band-aids and neosporin)
a notebook and a few pens
a few business cards
lip balm
lotion
a small plastic bottle of apple cider vinegar (it does wonders for cramps/spasms)
a tube of vaseline
nail clippers and a nail file
a one-use cold pack
tape (electrical and athletic)
various knee, hamstring, ankle and wrist braces
two Ace bandages
Tiger Balm
whatever MA book I happen to be thumbing through (currently: "Women in the Martial Arts")
a hand towel (for sparring-induced sweat)
a few bandanas
a pair of slides (for bathroom runs before and after class)
a pair of wrestling shoes (been training in them lately)
hand wraps
a bottle each of water and PowerAide
a few Slim Jims for protein replacement :-)
I think that's it - but you can see why it weighs so much...
What's in your gear bag?